Powertech pays brother-in-law of South Dakota governor to promote Dewey Burdock ISL uranium mine
Governor Mike Rounds claims he didn't know
Posted December 7, 2008
For over a year, Powertech Uranium Corp. has been paying Randy Brich to do public relations work for its Dewey Burdock project near Edgemont, South Dakota. Yesterday, the Rapid City Journal reported that Brich is married to the sister of South Dakota Governor Mike Rounds.
Governor Rounds appoints the officials who decide whether Powertech is granted permits to prospect for and mine uranium in the state. According to the news story, the Governor claims he was not aware of the connection between his brother-in-law and Powertech.
The Governor's sister, Michele Brich, and her husband own Diamond B Communications LLC, located in Pierre, South Dakota. Powertech's "Project Media Contacts" page lists the company as the media relations contact for South Dakota. Michele Brich filed the Articles of Organization for the LLC on May 10, 2007 and is listed as CEO of the company.
It is unclear if the company has any other clients since the Diamond B website address does not point to an active website. The extent of Michele Brich's involvement with the Powertech account is unknown.
What is known is that both Mr. and Ms. Brich attended at least one public educational meeting put on by Dewey Burdock opponents. According to a meeting attendee, Mr. Brich repeatedly interrupted and mocked the presenter and seemed more intent on disrupting the meeting than having a civil discourse.
Powertech has recently avoided such an contentious approach in northern Colorado, perhaps because of the overwhelming opposition to the Centennial Project. However, last year the company sent threatening letters to opponents who had spoken out against the project.
Powertech's public relations effort in Colorado was spearheaded by Webb PR, a Denver public relations firm run by Peter Webb. In a June 28, 2007 news release, Powertech announced the selection of Webb PR:
...Powertech is pleased to announce that it has selected a strategic communications agency, Peter Webb Public Relations (Webb PR), to develop its community-relations and media-relations plans surrounding the Centennial Project. Webb PR's team focuses on the mining sector and has extensive experience hosting public meetings, coordinating the public aspects of permitting and project siting. On behalf of Powertech, Webb PR has launched a call-in information line in regards to the permitting stage of the Project.
Mr. Webb held only one public meeting in northern Colorado (in July 2007). Several months ago, Webb PR's contact information disappeared from Powertech's website. No news release was issued and no replacement was named. Currently, Randy Brich's Diamond B Communications is the only media contact listed on the site.
JW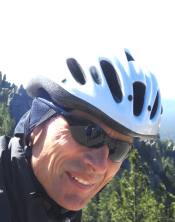 Randy Brich

Governor's brother-in-law representing uranium company
By Kevin Woster, Journal staff
Saturday, December 06, 2008
A brother-in-law to Gov. Mike Rounds is working as a consultant for Powertech Uranium Corp., the Canadian business that is exploring for uranium near Edgemont.
Randy Brich of Pierre, who is married to the governor's sister, Michele, is working in media relations on contract for Powertech. Brich also is part of the public-relations team for the corporation's Dewey Burdock project in the Edgemont area.
Such a close family connection to the governor worries Dick Fort of Lead, president of ACTion for the Environment and an opponent of Powertech's uranium-development plans.
"This is a clear conflict of interest, it seems to me," Fort said. "I think it would be clear that there's a vested interest involving the governor's relatives that raises a serious question here."
Rounds said through a spokesman that he wasn't aware that Brich was working for Powertech. Brich wrote in an e-mail to the Journal that he hadn't brought the matter up to the governor.
"I haven't discussed the matter with Gov. Rounds," he wrote.
Fort said even if the issue hasn't been discussed, there would be a clear tendency by the state Department of Environment and Natural Resources and its regulatory boards, which are appointed by the governor, to favor a permit application promoted by one of Rounds' relatives.
"Gov. Rounds is the boss of the Board of Minerals and the Environment," Fort said.
Fort said the mining board would likely grant Powertech's permit applications anyway. But the involvement of the governor's relative further strengthens that probability, possibly in unfair ways, he said.
Powertech has a corporate office in Vancouver, British Columbia, a "head office" in Colorado, an operations office in New Mexico and an exploration office in Hot Springs. The corporation will need permits from the state Board of Minerals and the Environment as well as the state Water Management Board to operate the uranium mine it wants to start in parts of Fall River and Custer counties.
The process to extract uranium from underground layers of sandstone involves drilling holes and injecting a solution of bicarbonate of soda. The solution dissolves the uranium and is pumped out and treated to recover "yellowcake" uranium for use in electric power generation.
Powertech is currently operating under state exploration permits and hasn't yet applied for a mining permit. It has notified the state that it intends to do that.
Fort and other critics of the proposal fear the injection system used to extract uranium will pollute groundwater, among other issues.
Bob Townsend, administrator of the minerals and mining program for DENR in Pierre, said the environmental staff and affected permitting boards wouldn't change their procedures based on the involvement of Randy and Michele Brich. Regardless of who is involved, Powertech won't receive any favors, Townsend said.
"They're just like anybody else. And we treat them just like anyone else," he said.
Along with the state permits, Powertech also will need a license from the Nuclear Regulatory Commission and a permit from the Environmental Protection Agency. Powertech officials have said they hope to start mining uranium by 2011.
Contact Kevin Woster at 394-8413 or kevin.woster@rapidcityjournal.com
http://www.rapidcityjournal.com/articles/2008/12/06/news/top/doc4938c69ce4ba8625224652.txt